Alicat Scientific Battery Pack
A portable battery pack can make your flow meter a powerful test and calibration device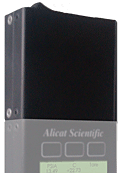 Availability
Not in stock. Usually ships in 3-4 weeks [?]
Need Help? Call a Flow Engineer 1-800-884-4967
We're open Mo-Th 8am to 5:30pm. Fr 8am to 5pm ET
Jason D.
Senior Applications Engineer
16 years at Instrumart
Lou P.
Senior Applications Engineer
22 years at Instrumart
Matt W.
Flow Engineering Lead
15 years at Instrumart
Colin W.
Applications Engineer
8 years at Instrumart
Mathias H.
Senior Applications Engineer
10 years at Instrumart
Features
9 VDC
Makes meters or gauges portable
This product is an accessory for the following products:
The Alicat Scientific 9V battery pack connects to meters or gauges to facilitate portable operation. The battery pack, when installed, provides a female, 8-pin mini-din circular connector that may be used to continue accessing the RS-232 and 0-5Vdc signals for comparison, data recording or data analysis.
Please note that units with the industrial connector, with 4-20mA signals or 0-10Vdc signals are not compatible with this accessory.