Endress + Hauser Heartbeat Technology
Endress + Hauser is a Swiss-based globally operating process, laboratory instrumentation, and automation equipment manufacturer. In 2018, Instrumart became an authorized national distributor of E+H products and since we have been discussing the breadth of technology and innovation these products have to offer with our customers .
One of the most exciting features we've learned about is Heartbeat Technology. A device with Heartbeat Technology organizes and displays clear standardized diagnostic messages of what needs to be done in order to maintain the instrument without process interruption. Armed with this information, the operator can plan for maintenance downtime which in turn delivers operational reliability and process safety.
Most modern instrumentation from Endress+Hauser will come with Heartbeat Technology included as standard for diagnostic purposes. Look for the symbol above in the documentation to know if Heartbeat is available on your device.
Upgrade to Heartbeat Verification+Monitoring
For added process reliability, you can opt to add the Application Package called Heartbeat Verification+Monitoring. The benefits of this optional upgrade will vary depending on the product and its underlying technology.

Monitoring - Adds the ability to output measured variables which are relevant to process and instrument health. These outputs are sent to customer-supplied condition monitoring systems for trending and analysis.

Verification - Heartbeat Verification checks the device functionality on demand and verifies the device is working correctly and complying with certain specifications. The result of the verification is "pass" or "fail". The verification data are saved in the device and can be easily exported to a PC via Fieldcare as well as the internal webserver. This report is considered a proof test as per IEC 61511-1 standard.

Heartbeat Technology Verification meets the requirement for traceable verification according to DIN EN ISO 9001: 2008 Chapter 7.6 a) Control of monitoring and measuring equipment.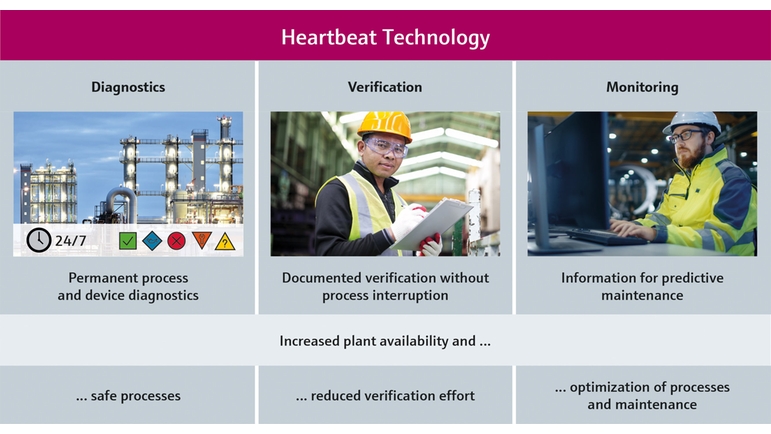 The Value of Heartbeat Technology
Heartbeat Diagnostics follows the NE-107 standardized NAMUR-compliant message structure for categorized event severity levels with clear remedy instructions provided for operations or maintenance.
High degree of functional safety and plant availability: You operate your plant safely despite extended verification intervals due to the intensive diagnosis.
More safety and reduced work: You verify at any time without interrupting the process.
Verification by pressing a button: The automatic and predefined verification procedures generate unambiguous verification results for documentation.
Transparent parameters for predictive maintenance and process optimization: Process and instrument data permit a trend analysis for predictive maintenance as well as selective analyses for process optimization.
Instruments with Heartbeat Technology extend proof test cycles significantly and deliver standardized diagnostic messages for economical maintenance. Verification occurs directly in the measuring point without process interruption in order to reduce verification efforts. Heartbeat Technology equips instruments with a comprehensive diagnosis and verification concept and facilitates predictive maintenance. Your expenditure for serviceability evidence or a SIL compliance test is drastically reduced.
For further assistance, or any questions, comments, or concerns, visit Instrumart.com or call at 1-877-270-1227 to speak with an application engineer. We offer free full tech support with every product we sell.