How To Avoid Electrical Panel Disasters
Electrical cabinets play a critical role in every facility. They are subject to overheating due to overload, corrosion, loose connections, and harsh environmental conditions. Heat is one of the most important contributors to electrical insulation aging. Because of this, it is crucial that the electrical cabinets are continuously being monitored for increasing temperatures and cabinet humidity. Without proper monitoring, there can be a complete thermal failure of the connection or nearby insulation, leading to the destroyed panel box pictured below.
In an effort to avoid overheating the electrical panel, there are small wireless self-powered sensors that monitor the temperature in your electrical panel. In addition, you can also tie in humidity and partial discharge monitoring. By installing these systems, you can monitor your electrical assets for increasing temperature or humidity in your cabinet.
How To Avoid An Electrical Panel Disaster:
For temperature detection, there are periodic types of inspections like thermal imaging but the ideal solution would be a continuous monitoring solution.
Intellisaw continuous monitoring sensors for critical parameters
Temperature sensing with wireless small self-powered sensors to monitor inside the electrical panel
Partial Discharge (PD) sensors detect tiny sparks as insulation breaks down
Humidity sensors monitor the relative humidity inside the space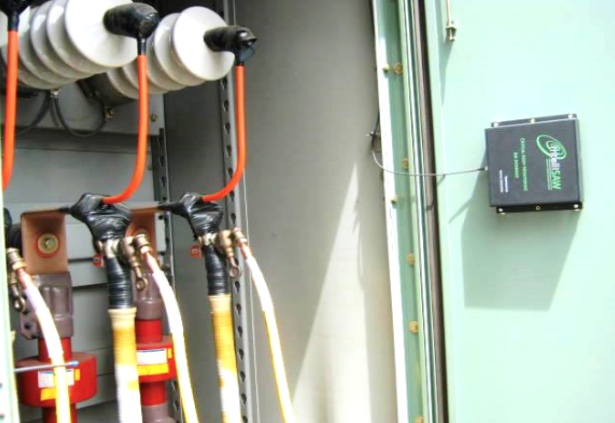 The IntelliSAW IS CAM-5 HMI aggregates system sensor data and performs analytics providing operators real-time condition-based monitoring of critical electrical power assets. System sensors include wireless temperature sensors, partial discharge sensors, and humidity and ambient temperature sensors. The IntelliSAW IS CAM-5 acts as a historian and as the primary interface point for SCADA integration or other head-end systems by leveraging common communication protocol support including DNP3, Modbus, 61850 and TCP/IP. Provides long term, short term and delta data trending for analytics on all sensor types. Aggregates sensor data from up to 120 temperature sensors, 80 PD UHF inputs and 80 humidity and ambient temperature sensors.
Features:
5" touch panel HMI
Up to 12 SAW (passive) temperature sensors
Up to 4 PD air interfaces
Up to 8 humidity sensors
Up to 10 monitoring units total
6 configurable alarm outputs
Industry standard communication interfaces for SCADA integration
Here's an example of a full installation:
Do You Have Questions? For further assistance, or any questions, comments, or concerns, visit Instrumart.com or call at 1-888-752-3985 to speak with an application engineer. We offer free lifetime tech support with every product sold.