ProComSol DevCom.iOS Smart Device Communicator
Perform complete HART device configurations using your iPhone or iPad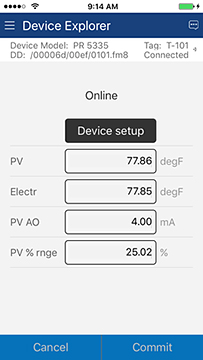 Includes
Part number DevCom.iOS
Manufactured by ProComSol
Availability
Not in stock. Usually ships in 1-2 weeks [?]
Need Help? Call a Calibration Engineer 1-800-884-4967
We're open 8:00am to 5:30pm ET
Shawn S.
Senior Applications Engineer
24 years at Instrumart
Mike C.
Cal & Pressure Engineering Lead
19 years at Instrumart
Mike K.
Manager of Outside Sales
8 years at Instrumart
John A.
Applications Engineer
14 years at Instrumart
Angelo S.
Applications Engineer
Mark D.
Applications Engineer
8 years at Instrumart
Features
Easy to use iOS interface
Fast device connect and data view
Ability to save configurations as text file and PDF file
Supports HART 7, WirelessHART devices and HART-IP
Operating System: iOS 10
Memory RAM: 1 GB
Memory ROM: 2 GB
1 year of free DD and program updates
The ProComSol DevCom.iOS smart device communicator allows access to and management of a HART-compatible field device's configuration and calibration using iOS devices.
DevCom uses Device Descriptions (DDs), created by the device's manufacturer, to access data stored in the memory of the device and determine what information to display, what variables are available for edit, and what procedures to follow for calibration, setup, and maintenance. The latest registered DD files from the FieldComm Group are included as part of the DevCom installation.
DevCom accesses and presents field device data based solely on its DD. No other files, information or custom drivers are required. DevCom is intended to monitor and configure a single device at a time, and is directly connected to the current loop (or HART-IP) of the particular device. It provides a user interface to configure the HART field device, a means to configure and view all the parameters related to the device, and an option to view the detailed status and diagnostic capability of the device.