Introduction to Radar Level Measurement Systems: Contacting and Non-Contacting
The efficient operation of process plants relies on accurate and reliable level measurements. These measurements are essential for optimizing process control, inventory management, and custody transfer, all of which can affect profitability. Level measurement also plays a critical role in safety applications such as overfill prevention. Radar level measurement systems are available in contacting and non-contacting versions.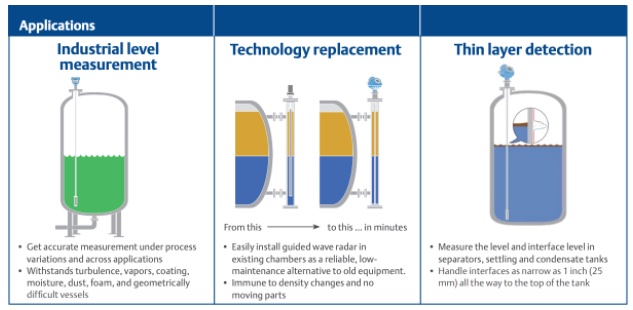 Contacting:
Contacting is generally a good fit for small spaces and is an easy replacement of older technology such as displacers and capacitance probes. Contacting devices, called guided-wave radar (GWR), are slightly more prevalent primarily because they are capable of providing interface level measurement (e.g. oil and water), as well as standard direct level measurements. Guided wave radar measurement is based on the time difference between sending and receiving a microwave pulse sent down a probe and reflected back to the media surface.
For level and interface measurement of liquids or solids
Suitable for wide range of temperature and pressure requirements
Top mounted
Unaffected by media density, viscosity, conductivity, turbulence, foam, and dust
Rosemount guided wave radars are easy to install into existing tank connections and are virtually unaffected by process conditions.
Get highly accurate and reliable direct level and interface measurements
Solve challenges of small vessels, difficult tank geometries, and internal obstructions
Ideal for chamber applications and for replacing older technologies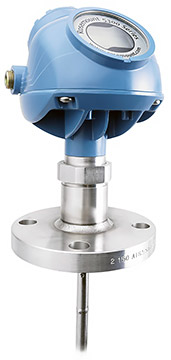 Reliably handle challenging process vessels and applications with maximum control and safety
Tap into microwave innovations for longer-distance measurements even with lower dielectric
Streamline configuration and diagnostics through Radar Master software, a Trex communicator, or any EDDL-based interface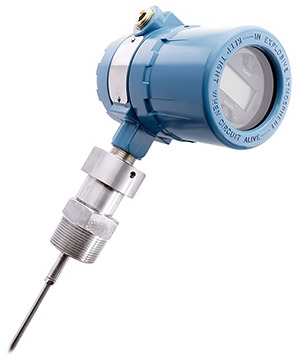 Handle most liquid storage and monitoring applications with ease
Smart, loop-powered guided wave radar technology
High reliability and performance
Ideal solution for your new or remote measurements with no wiring and easy commissioning
Built on proven technologies ensuring reliable performance and high accuracy
Minimal maintenance and long-lasting nine-year battery life
Non-contacting:
Non-contacting is generally a better fit for dirty, viscous and/or corrosive applications and when agitators are present. Non-contacting radar transmitters perform level measurements by using frequency modulated continuous wave (FMCW) technology. Rosemount's unique energy-efficient two-wire FMCW radar technology provides optimal performance. A microwave signal launched into the tank is reflected back from the media surface. The level is derived from the time or frequency difference between the sending and receiving of the signal.
For liquid or solid tank levels with wide range of temperature and pressure requirements
Top mounted; can be isolated by valves
Unaffected by media density, viscosity, dirty coatings, and corrosiveness
Rosemount non-contacting radar transmitters are highly accurate and reliable direct level measurement for liquids or solids.
MultiVariable output with level, distance, volume and/or signal strength
Immune to changing density, conductivity, temperature, pressure, viscosity and pH
Compatible with a wide selection of materials, process connections, antenna styles and accessories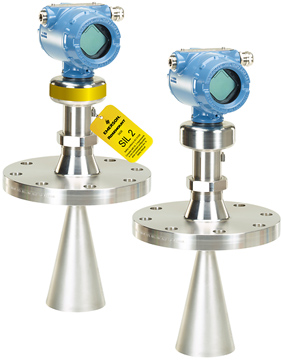 Two-wire fast-sweep FMCW technology optimized for best sensitivity in process applications
Available with ±0.08 in. (2 mm) standard instrument accuracy or ±0.04 in. ultra accuracy over 40 m (130 ft) measuring range
Designed to simplify operator tasks with pictorial instructions and an intuitive software interface
Ideal for solids applications
Do You Have Questions? For further assistance, or any questions, comments, or concerns, visit Instrumart.com or call at 1-888-752-3985 to speak with an application engineer. We offer free lifetime tech support with every product sold.